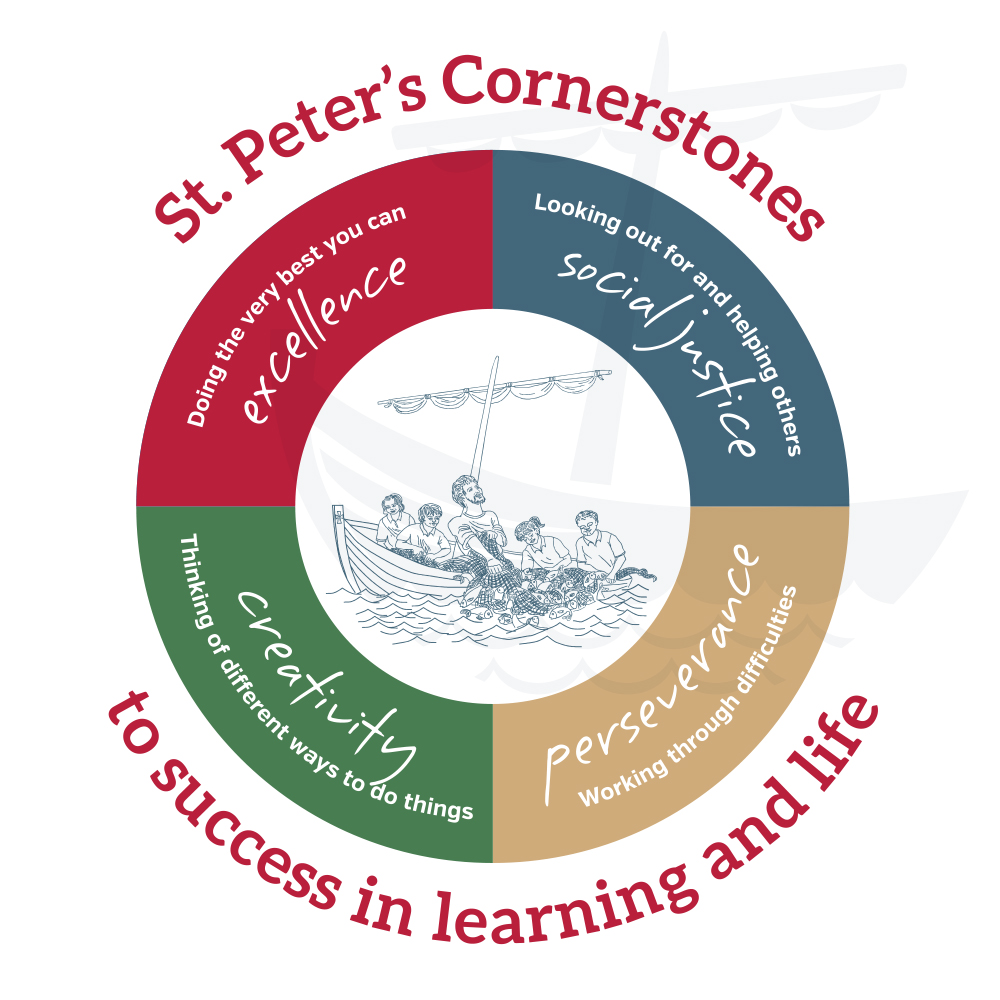 At St Peters we believe:
That God is present in all people and living things; the values of Jesus are taught as well as lived in our school community.
That all members of the school community feel welcomed, supported, respected and safe because relationships have been developed and are valued.
Each child has unique and special characteristics which are recognised, respected and nurtured as a part of who they are and wher e they are going.
That the needs of the children are the cornerstone of all decision making which is best achieved through partnership with the whole school community.
That together we can create learners who are independent, resilient, tolerant, self - aware, self - managed, curious and confident in their own ability.
That learning is a lifelong journey, therefore all children have a right to an excellent education, to be guided and encouraged to be the best they can be.
That all children have the right to feel safe and be safe. We aim to create a child safe and child friendly environment where children feel safe and are free to enjoy life to the full without concern for their safety. The wellbeing of children in our care will always be our first priority and we have zero tolerance for child abuse.

Identity Statement
St Peter's is a unique Catholic school that embraces, nurtures and values each child in an open and diverse learning environment.
School Values
We are a spirit filled community where different backgrounds, cultures and abilities are celebrated.
Rather than have a list of school rules, St. Peter's has instead adopted four core values that we encourage all members of our school community to focus on and try to live out. They are –
Care for Self – focuses on ways we can look after ourselves.
Care for Others – this looks at ways to ensure that we look after other people in our school regardless of whether they are our friends or not.
Care for the Environment – this focuses on how we can look after our school grounds as best as possible.
Care for Learning – ensuring that all children in all classrooms are given the best opportunity to learn to their maximum.

At the start of the school year we devote a lot of time to making sure that all students understand these values and have strategies for making sure we live them out.
Graduate Outcomes
At St Peters we commit to educating students to be.......
In a strong relationship with God and to become aware of their own and others' spirituality.
Safe, happy, confident and optimistic about life and their future.
Resilient risk-takers who learn from their experiences.
Contributing members of society who are aware of and appreciate others.
Life long learners who are literate, numerate, inquiring and questioning problem solvers.
Socially and emotionally competent, caring and respectful of self, others, the environment and their learning; and who can build and maintain positive relationships throughout their lives.
Capable of reaching their full potential by fostering their passions and strengths and by equipping them with the skills and strategies to embrace life's challenges.